1. How to connect to Wi-Fi / Internet ?
Make sure that your Wifi Adapter is switched On.
Please connect to 'Nimble Cowork' network on the wifi.
Open any web browser, such as, Chrome ,IE, Firefox or Safari. Please copy the IP address: 10.5.50.1:8090/httpclient.html. Press Enter.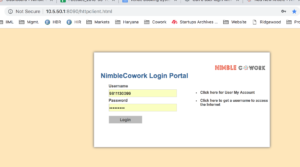 4. Please enter your username (i.e., phone number) and password (please contact the support team for your password). Click Login.
        5. You should be able to login to the system.
Note: Please note that the login is valid for 24 hrs at the max. and you would need to repeat the steps 3 to Step 5 every day.